Backlinks.com.au has been helping clients in the Australian market acquire high-quality links and build high-quality content assets for over 10 years.
If you need a link building service you can trust, talk to our team today on 1300 886 452.
About us
Backlinks.com.au has been operating for over 10 years in the Australian market to develop effective digital public relations services. Our comprehensive link building efforts include strategising, outreach and implementation.
Our Australia-based link building SEO agency has experience working within a range of industries including online education, finance, travel, Forex, e-commerce and more. No matter your needs, we have the expertise you need for a successful link building campaign.
Why are we different?
Our team works to deliver high-quality inbound links which are long-lasting. We are based in Australia and use manual methods and direct outreach to deliver the very best results.
Link building is one of the most important investments your business can make. Low-quality backlinks can be very harmful to your website, which is why you should opt for the premium link building services of Backlinks.
While link building in the Australian market can be difficult, we have years of experience and proven results, making Backlinks.com.au the perfect option for your business.
Best digital PR agency Australia
Digital PR is all about managing the awareness and reputation of your business in the public sphere. In the modern world, social media channels, digital publications, search engine rankings and more are all critical ways for businesses to increase brand awareness.
Link building is crucial for any search engine optimisation (SEO) and digital PR campaign. Link building is the ultimate double-whammy: It gets the word out about your website, while also boosting your performance in Google Search by gaining authoritative backlinks.
Don't continue to overlook SEO and link building in your digital PR campaigns. Contact us today to find out how our expert team can boost your business.
Prior campaigns
Here are 2 successes Backlinks.com.au has worked on in the past within the education and ISP comparison niches.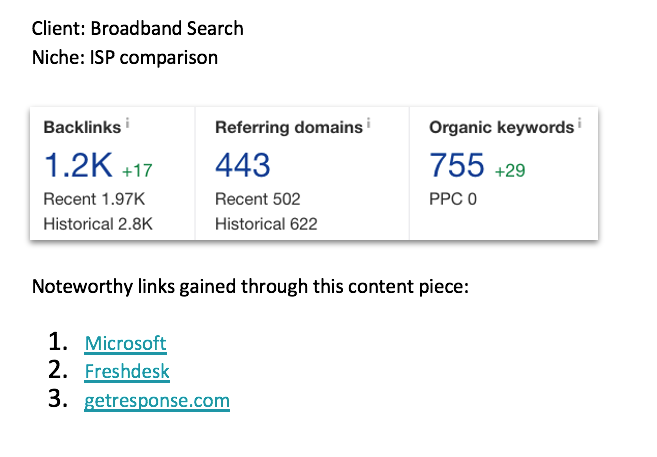 What is digital PR?
Digital PR is the practice of using digital forms of communication for spreading brand awareness and managing a business' reputation. Some popular digital channels for PR agencies to target include:
Search engine results pages
Digital content published on a business' website
Social media platforms such as Instagram, Facebook and Twitter
Video-sharing platforms such as TikTok and YouTube
Digital PR is a valuable investment for any business, as it drives customer relationships, engagement and sales. The modern world provides an ever-growing array of ways for digital PR agencies to spread awareness of brands to their target audience.
From influencer marketing via social media to press releases to be published in major online publications, a digital PR team can use any number of innovative methods to meet the goals of your business.
Link building in digital PR
Any good digital PR practitioner is well aware of the role SEO plays in their online presence. Unsurprisingly, Google remains the most visited website in the world, so a major piece of any online marketing strategy should be boosting a site's visibility on Google.
Backlinks are arguably the most important ranking factor for Google. They inform Google that your site has valuable, authoritative content which is worth ranking highly on search engine results pages.
Many digital PR strategies are forms of link building. For example, content assets like press releases are a great way to accrue links to a website, and PR agencies perform outreach to gain as many links as they can.
However, there are many more methods that can be used to boost link building efforts. From broken link building to resource pages to directory listings and more, a holistic approach to link building is necessary for maximum results.
At Backlinks.com.au, we use a range of metrics including traffic, Domain Rating and relevance to find and acquire high-quality links to your website. Your digital PR process is incomplete unless you are harnessing backlinks to improve SEO.
Digital PR vs traditional PR
Digital PR and traditional PR differ in a number of key ways. While digital PR seeks to stay on the cutting edge of technology and use online-based methods to achieve its goals, traditional PR focuses on more established means of communication such as radio and television.
The goals of digital PR and traditional PR are fundamentally similar. From promoting a new product line to crisis management, these 2 different forms of PR use different means to achieve the same ends.
When deciding between investing in digital PR and traditional PR, it's important to consider your target audience. If you wish to promote a brand to younger people, a digital PR strategy is very useful as they are more likely to use social media platforms. You're more likely to reach an older audience via traditional PR.
That said, the usage of Google appears to transcend age, as this Swedish study shows. Investing in digital PR SEO and link building is a great idea for almost any target audience.
It's also worth considering the reach of digital PR services vs traditional PR. The digital landscape is an ever-expanding world of opportunity, with new websites and platforms constantly on the rise. Meanwhile, channels of communication for traditional PR like radio and television have less of an audience than ever.
Frequently asked questions
Does digital PR help SEO?
Yes. Many of the practices of digital PR, when properly executed, can benefit SEO outcomes. For example, generating quality backlinks and publishing optimised blog content are both key for SEO. Understanding the role that digital PR plays in SEO can be massively beneficial for the outcomes of your business.
What are the advantages of digital PR over traditional PR?
If your target audience skews younger, your business goals are likely to be best served via digital PR efforts rather than traditional PR. Younger generations are much more likely to come across a web page than they are to hear a press release on the radio.
Digital PR is more accessible and easy to enact than traditional PR. However, this ease of use does have downsides. While you can enact digital PR strategies very easily and cheaply, it isn't always a good idea to do so. For example, producing a large quantity of low-quality social media posts can deter interactions and turn users off your business.
Likewise, while it's relatively easy to build many backlinks from public blog networks and other low-quality sites, this strategy could very well hurt your business more than help it, as Google may punish your search engine results due to these spammy links.
What is the cost of link building?
Our link building packages start at $2,000 AUD + GST a month. This includes a full report.
Are your links relevant to my industry?
Securing relevant links is an important ranking signal for Google's algorithm. As such, we acquire backlinks from websites within the same industry or a similar industry to your own.
Will the links be long-term?
We build long-term links. We will not take down links after your campaign ends. Following the termination of your campaign, the duration of your link is dependent on the source website.
Still have some questions? See more FAQs or contact us.