So with the US election soon to be held at the start of November and gaining much press coverage in our local market Australia we decided to pull together some research around Obama and Romney to compare the social metrics and also link building metrics of each website respectively.
Comparison One – Total backlinks comparison over time:
– It is evident from the total backlink comparison over time that Obama's website has a very strong link profile, that been said the website has been pushing out content for the last few years whilst Romneys website is fairly new. Romneys website has picked up some ground in recent months yet from a long term view their is still further ground to pick up.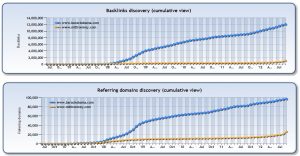 Comparison Two: Obama vs Romney on page link metrics comparison –
From the on site link metrics Romney's website has a far higher number of internal links whilst Obama's website out shines again in the total links elements.
Comparison Three: Obama vs Romney on page social sharing comparison –
From the on page social sharing comparison Obamas website is the stand out in several areas, mainly on page shares from facebook, Likes, Twitter shares and also Google+ shares.
(Data below shows Romney's website on the left and Obama's on the right)
Conclusion from the data above: It is evident that Obama's website has a stronger position from the link building and on page social elements, yet this is partly due to having a first to market advantage. It is evident that Romney's website is gaining speed quickly.
We hope you enjoyed this quick summary comparing both the presidential candidates websites.