So I have worked with numerous eCommerce sites over the last 8 years in Australian and the US market. Today I decided to write a few tips on eCommerce link building. As I have worked with many Fashion sites in the past this post will have a focus towards fashion (mainly the iconic website as it is a good example) but you can change it for any niche in eCommerce the basic principles are mainly the same.
Tip 1. Reaching out to suppliers and event partners to get links. At a past eCommerce site I worked at we reached out to Apple to get a link for one eCommerce site I use to work with as they were a direct supplier. You just need to have a reasons "why you deserve the link". Also use internal search/ crawl on your main suppliers websites and see if they have a suppliers page. An example below shows an Event Partners link page which is PR5: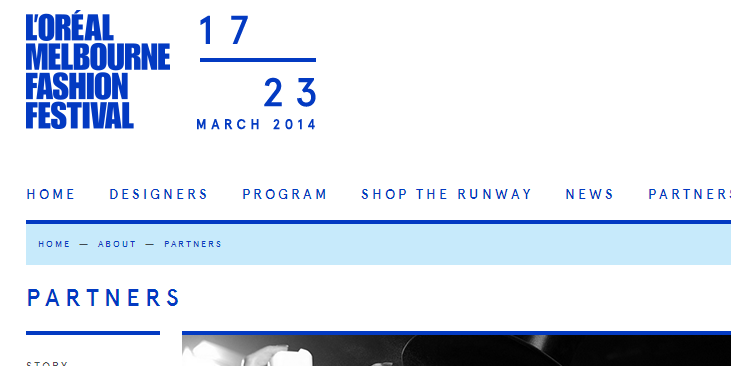 Tip 2. Competitive research like crazy. I would advise to pull weekly competitive reports too see what competition is up too. Once you have this look at fresh backlinks competition has generated and think to your self how can I get that? Just pick your top 5 competitors and do this on a weekly basis, get your interns or juniors to pull the reports and get involved in the research as well !!!


Tip 3. Create custom content for high authority links to the eCommerce site – Heaps of .gov and .edu sites have these "country history" pages. If you work with a old eCommerce site try and build a "history of clothing" content section, then reach out the government sites. We did this a few times for fashion brands where we did an "Australian History of Fashion" contacted the government site and it yielded great results. Also look at your competitors link profile and extract the .gov and .edu links from the profile you may find some more goodies you can get. (PRO TIP) When you email the webmaster at the GOV and EDU sites try to use a females name or a female in your team to do the outreach.
Good research on this tactic here of using female team members for out reach here: http://moz.com/blog/putting-guest-post-outreach-theories-to-the-test-with-some-real-world-data

Tip 4. Internal team training is the BIGGEST one, one eCommerce site I worked at had Social team, IT team, help team, Forum reply team, PR team, all internal – basically what I did was go and tailor presentations to all the different teams and show them exactly what to do to acquire natural links, this was like 3 years ago. I gave every one pep talks and showed them KPIS for SEO. It is amazing how the help team was one of the most involved.
For example if you have a social media team monitoring mentions you can give them clear instructions when you build dedicated links to pages and when not to build links it is a win win for every one.
Tip 5. Another one is if you are a eCommerce site with TVC's and a bit of history look for people who have taken your old content and ask for links. Have done this one a few times as well. Basically just go to YouTube or other search engines and search for "branded keyword + TV" for example or "branded keyword". Simple things like this can yield quick results. And when you email the target always use the branded company account to request they link back to your corporate site in the description.
Tip 6. Using Badges on fans blogs/websites or even getting fans of the brand to add logos to their site. This is an easy one if you have a big brand you can send out an email to your members and say to your fans link to us with this badge or contact. Another one to get links via badges and company signs is to run a competition via social networks Facebook/ Twitter and as part of the competition you get people to re share content. It can build a few social links.
I would advise to use branded links to deep pages, if you are concerned about the badges make sure that you no follow links. This can be used for a traffic driving strategy.
Tip 7. Reverse image search on the company logo over time, or a reverse image search on some popular branded content. Basically go to web.archive.org and search for your brand website over time see how the logo has changed over the years and make sure you download all the different variations. Then head to a reverse image search site such as Tineye and find out who is not linking back to your logos.
(PRO TIP) Do reverse image search on infographics your business has made, I have tested this method numerous time and it has yielded good results with link acquisition where businesses do not link back to your website yet they use your infographic.


Tip 8. Tracking all sponsorship the business has made and making sure that you have the correct link equity from this specific sponsorship. The number of times I have worked with big eCommerce businesses the first thing you need to ask is "Do you have any current sponsorship with any thing at all" this is the easiest way to look if you can get some link equity from this specific sponsorship. The bigger the site the more sponsorship's they will usually have even if they have Celebrity spokes people or brand ambassadors find out who they are and ask if you can get a badge link on their site. The moral is: "If you don't ask you do not get!"
I would advise to use branded links to deep pages, if you are concerned about the badges make sure that you no follow links. This can be used for a traffic driving strategy.
Tip 9. Uploading your offline catalogs online and making sure you embed links within them on the first few pages. The number of times I notice big brands not using their offline content online and people just start taking the content for them selves. An example site you can use is : www.cataloguecentral.com.au
Tip 10. High Quality Shopping Center Directories are another great way to get links for eCommerce sites, just ask your brand for a full excel sheet of all the current shops they have offline. Once you have this find out for that location does the shop have a directory website. This tactic can yield plenty of links direct to your eCommerce site and example below for the QVB shopping website which is PR2. I have scored some follow PR4 links in the past using this method.


Tip 11. Brand mentions tracking for non linked back content, you can do this using social media monitoring tools or you can also do it using syntax search in Google such as ("theiconic" -site:www.theiconic.com.au) what this will show you is any sites that have not linked to the brand website yet they have mentioned your brand term.
Overall these are 11 tips I am sure if you go out and implement you will yield some results for any eCommerce link building campaign.